Log-Steady is the Android app for logging sightings of lorries and other vehicles operated by Eddie Stobart Group. It has details of over 9500 current and former vehicles operated by Eddie Stobart Ltd, Stobart Renewable Energy, Stobart Rail, Stobart Forestry, Stobart Air, Stobart Ports, Stobart Automotive, Stobart Power, WS Transportation, Explore Transport, O'Connor and others. Simply enter all or part of a number plate, fleet number or name, and choose a matching vehicle from the shortlist.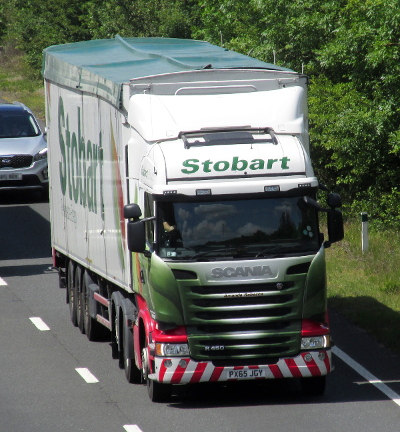 Log-Steady is free to download and install. A subscription allows you to store new sightings and save changes to previous sightings, and costs only £1 per month + VAT (or equivalent in other currencies). Any sightings you have made will be retained, even if your subscription lapses.
Log-Steady lets you browse through your sightings, and sort them by time, by number plate (vehicle registration), by fleet number, by name, or even by distance from where you are at the time.
Log-Steady is regularly updated with new vehicles and new features. Even if you see a vehicle that isn't yet included, you can still log it; such user-defined vehicles are marked with a pencil button

. Later, if you find the vehicle is included, you can use the look-up function

to replace it.
Log-Steady keeps track of how many sightings you have made in total, how many different vehicles you have logged, how many you have seen today, and how many you saw on your best day; simply tap the statistics icon

. The date and time are stored automatically, or you can set them manually. If your device has GPS enabled, sightings are automatically geolocated, and you can view all your sightings on a map

, or export them in KML format to be viewed in other apps. The co-ordinates of each sighting can also be added or altered manually. The sighting screen also has a space for a description of the location, so you can record a more meaningful location. There is also a notes field than can be accessed with the down-arrow bubble

, in case you want to store any other information.
With Log-Steady, you can take photos of vehicles with the device's camera. If you use the camera button

from the sighting screen, it will be linked to that sighting; if you use the icon on the main screen, you will be able to attach that photo to the relevant sighting later, using the paperclip button

. You can also browse through all the photos you have taken, using the grid button

, and navigate from there to the linked sightings. Sightings that have pictures attached are marked with a photos icon

.
Sometimes it can be hard to record the exact spelling of a name as a lorry speeds past, so Log-Steady can accommodate spelling mistakes. Under settings

, set the "maximum number of spelling errors" to for instance 2, and vehicles with names 2 steps away from what you typed will be included in the shortlist of suggestions; if you typed "Anetha", the shortlist would then contain Anita, Neta and Anita.
Happy spotting!